Enter the Venue
Requirements
For the best ARENA performance, you need a few things:
Browser (we have tested ARENA with recent Chrome, FireFox and Oculus Browser)
No ad blockers/privacy extensions (sorry, we are working on it; some are known to cause issues)
Headphones highly recommended. They provide directional sound and stop echo. Please stay on mute when not speaking if you don't have headphones.
A fast, recent machine to handle all the processing and 3D graphics is also highly recommended
Details about the VR user interface in our "First time in the ARENA" tutorial.
To enter, follow this link (new tab):
Remote participants can use VR in a browser or a VR headset to navigate the lab space and meet both remote and in-person attendees.
Everyone is referenced in the real venue, so remote participants should have a sense of interacting with in-person participants in a shared space.
Judges: A private link will be emailed to judges.
Once Inside the Venue in ARENA
Note that everyone starts muted and with video off.
Moving inside ARENA
Use the arrow buttons or a combination of WASD + mouse to move:

Audio and Video
On the upper right, you will see your audio/video control buttons: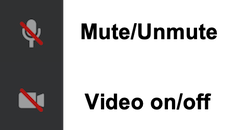 Got a VR Headset?
To try ARENA in VR, you can go to a WebXR enabled browser. For example, go to Oculus Browser on Quest 2 and enter the scene URL above. Be patient while the scene loads and click "Enter" on the normal AV dialog box. Unmute mic BEFORE entering VR. Click the VR button in the lower right to enter immersive mode. A forward push on the left hand rocker brings up the teleportation ring. Clicking the rocker left and right rotates.